November 22

-

November 23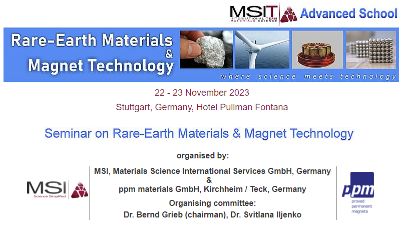 When? 22 – 23 November 2023
Where?  Stuttgart, Germany, Hotel Pullman Fontana
The 2nd MSIT Advanced School Seminar on Rare-Earth Materials & Magnet Technology offers a comprehensive exploration into the entire supply chain of magnetic materials, extending from the resources of Rare-Earth ores to the final production of different magnet types. This seminar is an invaluable platform for professionals in management and technology to enrich their understanding of this pivotal field.
This seminar encompasses:
An in-depth overview of global sourcing and supply strategies, as well as the latest economic developments in the global magnetics markets and technologies.
Detailed analysis of the materials science behind the properties, technology, and applications of Rare-Earth magnets.
A concentrated focus on permanent magnets and the procurement of raw materials, starting with the fundamental aspects of Rare-Earth elements and magnetism.
Additionally, the seminar integrates a lifecycle perspective, illuminating the processes from mining to magnet production and recycling. This approach emphasises the critical importance of sustainability and environmental protection in the context of the Rare-Earth industry.
It provides an excellent opportunity for all REEsilience Stakeholder, interested in the field of Rare-Earth materials and magnet technology to expand their knowledge and contribute to shaping the industry's future.
For more information and registration, please refer to the MSI.