A Unique Event for Executives and Engineers in the Magnetics Industry
MAGNETICS 2023 is a leading global event focused on the latest economic developments and technical advancements in magnetics markets and technologies bringing together worldwide magnetics experts. This is a once-a-year opportunity for professionals involved in magnetics technologies to learn the latest advancements in magnetic applications, technology, and materials as well as global issues of supply, demand, and pricing of magnetic materials.
MAGNETICS 2023 is an opportunity to learn from technical experts and network with peers, professionals, and potential business partners involved in a variety of applications. Learn about advancements in magnetic materials, as well as the latest technical innovations and application developments in the field of magnetics. Learn the outlook for pricing and economics. Discover the latest techniques, equipment, and materials involved in the performance and control of magnetics. Learn from leading technical innovators the latest developments in how magnets are being applied, and magnetic effects utilized, to help optimize system and product performance in diverse applications.
REEsilience Partner REIA will be also part of the event.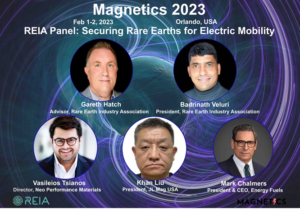 Register here: https://www.magneticsconference.com/copy-of-register